Alt text is a short description of the image. It is a kind of meta data that does not appear on the page, but is very important for three reasons:
Search engines use this text to understand what is depicted in the picture, and makes images more important.
Images with alt-text are indexed and participate in image search Yandex.Images and Google.Images.
Visually impaired people use special browsers that, instead of images, reproduce their text description from the alt-attribute.
Filling rules

What to write about. Focus on the main things in the photo. Write in simple, understandable language, trying to tell your imaginary friend what is shown in the photo.
The length of the text. Recommended length of alt-text is 7-9 words. The text should not be shorter than 3-5 words and longer than 13-15 words.
No spam. Don't use a lot of keywords in your alt text, it can be perceived by search engines as spam. Instead, write a couple of relevant keywords if possible.
If there are a lot of photos. There is no need to write many identical descriptions, it is enough to specify the alt-text only for different photos.
Examples of alt texts:

The bride and groom take a leap next to the Bronze Horseman on a clear sunny day.
A bride with children walks along a dirt road in a green park with a bouquet of flowers.
In the foreground is a large bridal bouquet of red and white roses, in the background is a yellow minibus.
A tall girl on the Gulf of Finland shore in a gray coat and a large knitted scarf. Cloudy day, gray sandy beach, strong wind and waves.
A young man in a white polo shirt and blue jeans sits on a gray sofa with yellow pillows.
Portrait of a girl in a dark green sweater with brown hair, freckles and green eyes on a light gray background.
---
How to specify alt text in an album

To go to the editor of alt-texts of photos in the album, you need:
Open the album for editing and click on the "Alt-texts" tab: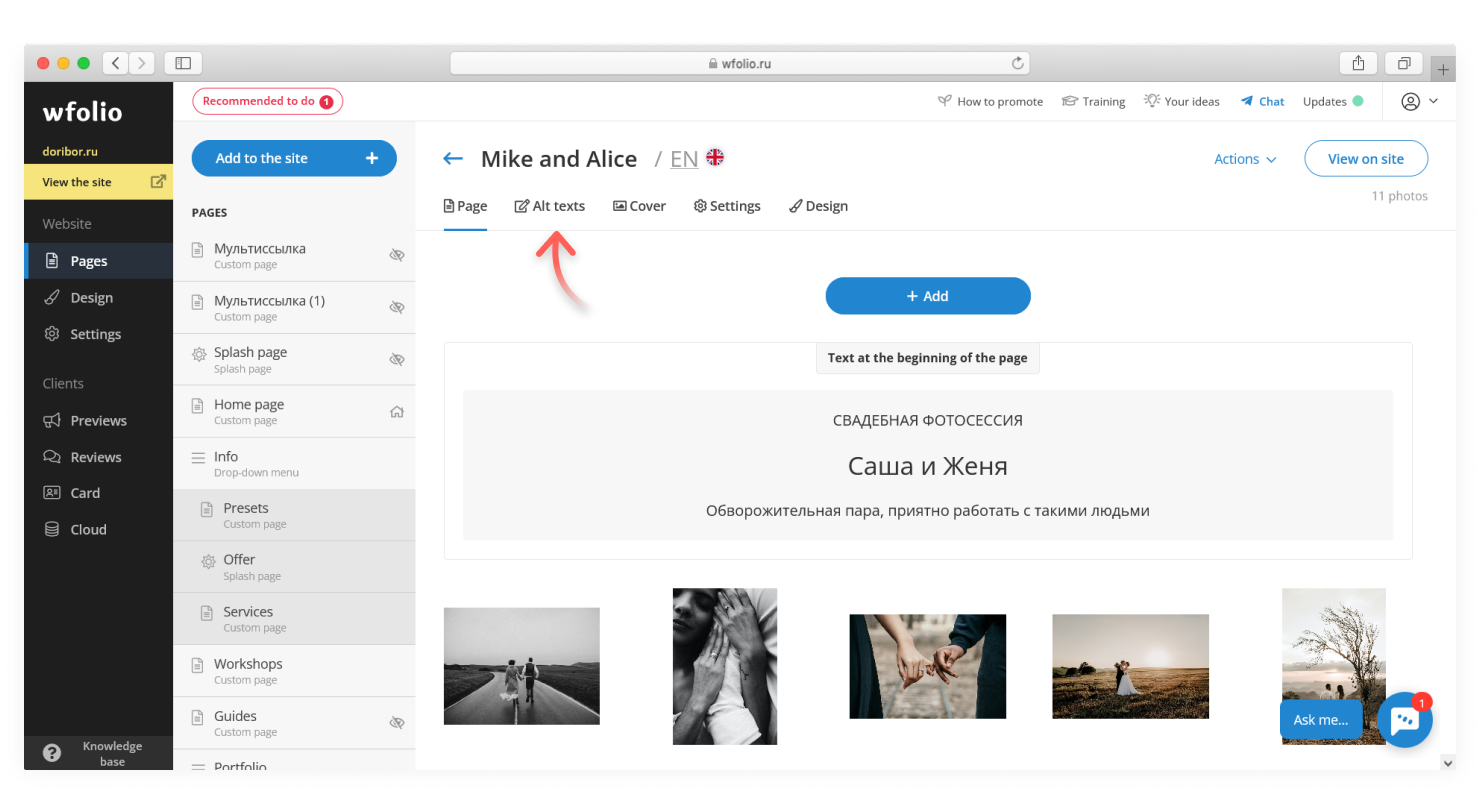 Fill in the "Alt-text for search engines" fields in accordance with our recommendations in the opened window and click "Save" in the upper right corner.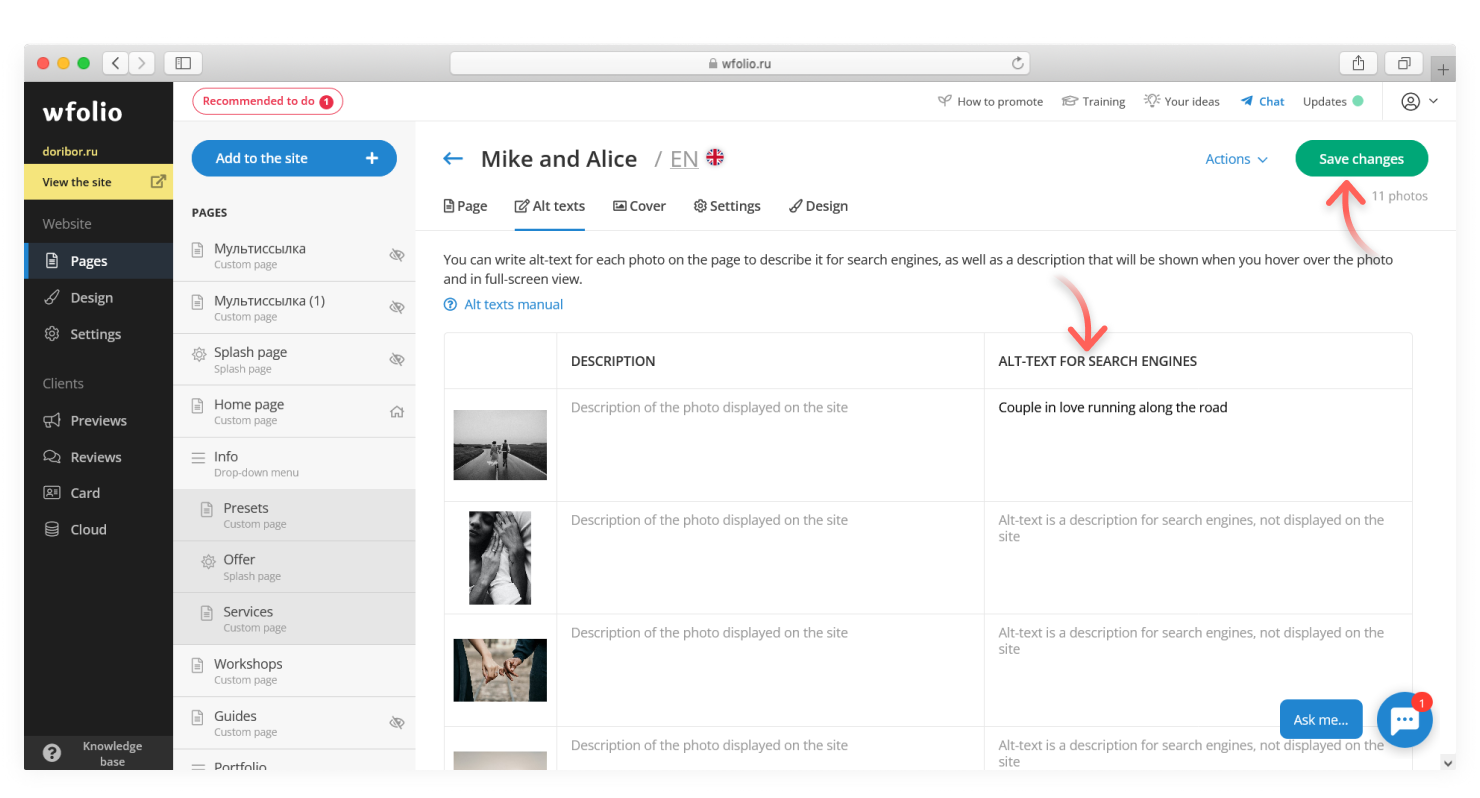 ---
How to specify alt text for an image in a block

To add alt text for an individual photo in a block on a custom page, you need to:
Open the page for editing and click on the "Alt-texts" tab.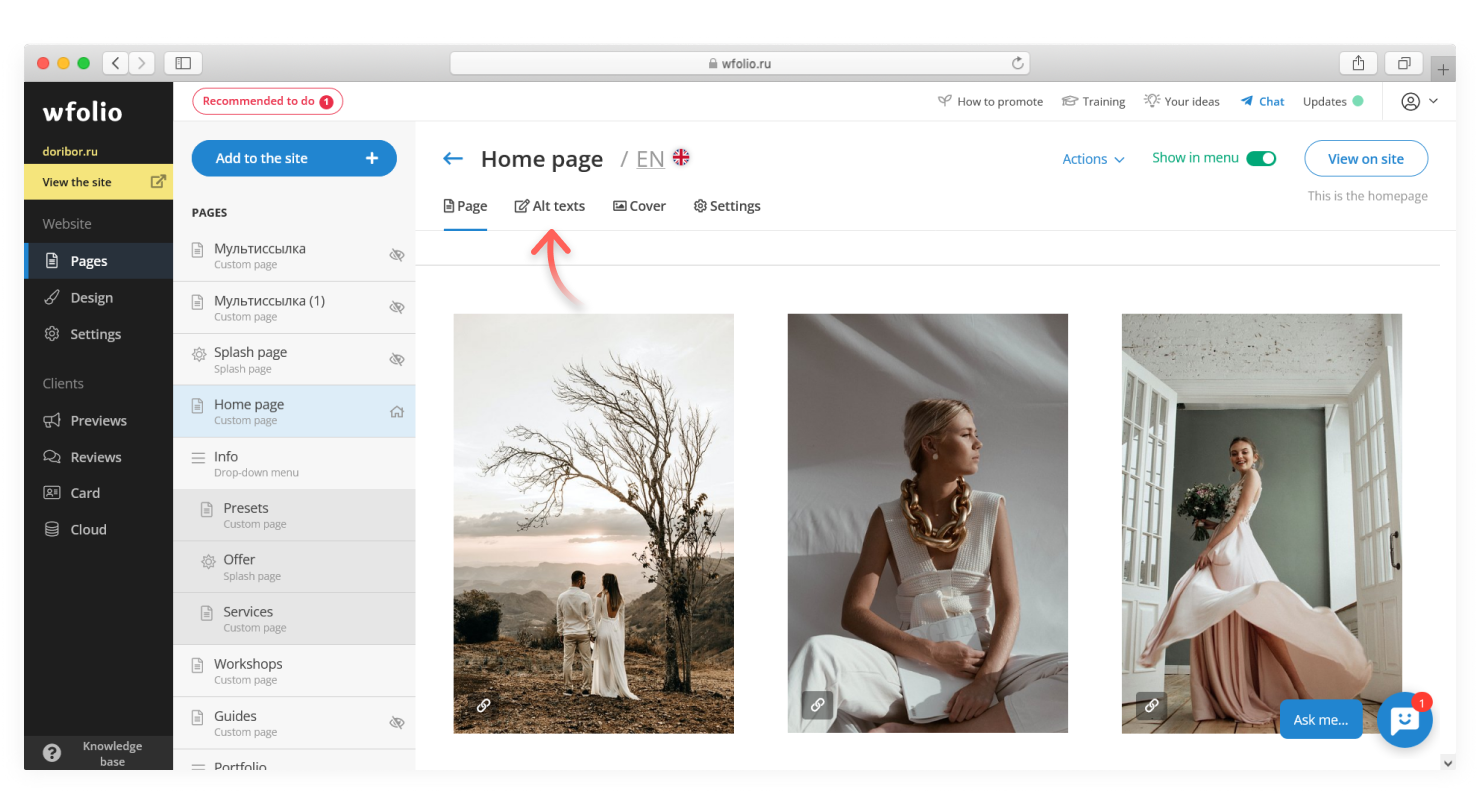 Write the alt text for the photo in the "Alt Text Search Engines" field as we recommend and click "Save".